Bayan has launched its new accredited Doctor of Ministry program in Islamic Leadership and applications are now being accepted for students who will start their studies in Fall 2024. The program is offered in partnership with Chicago Theological Seminary (CTS), where Bayan currently offers accredited MA and MDiv degrees.
Bayan's innovative Doctor of Ministry (DMin) in Islamic Leadership program provides an unprecedented opportunity for experienced Muslim leaders and scholars who are serving communities to further their engagement with the Islamic intellectual tradition in a rigorous academic setting, develop capacities for skillfully addressing significant public issues by drawing from the theological, spiritual, and ethical traditions of Islam, and explore insights from the teachings and experiences of leaders in other faith traditions in some shared courses.
The DMin degree is a 3 year, 10 course, 30 credit advanced program focusing on public ministry and leadership. Required and elective courses will be taught by Bayan and CTS' world-class faculty, and Bayan will offer its courses in its unique hybrid model of instruction, featuring intensive in-person classes on campus at the Chicago Theological Seminary, and online sessions throughout each academic term. Following two years of coursework, doctoral candidates will complete a DMin Directed Study Project that addresses a compelling issue or need within their respective faith communities. This entails undertaking project-based research in an approved area of advanced religious leadership, the writing of a thesis of 75-100 pages based on the project, and an oral defense of the thesis.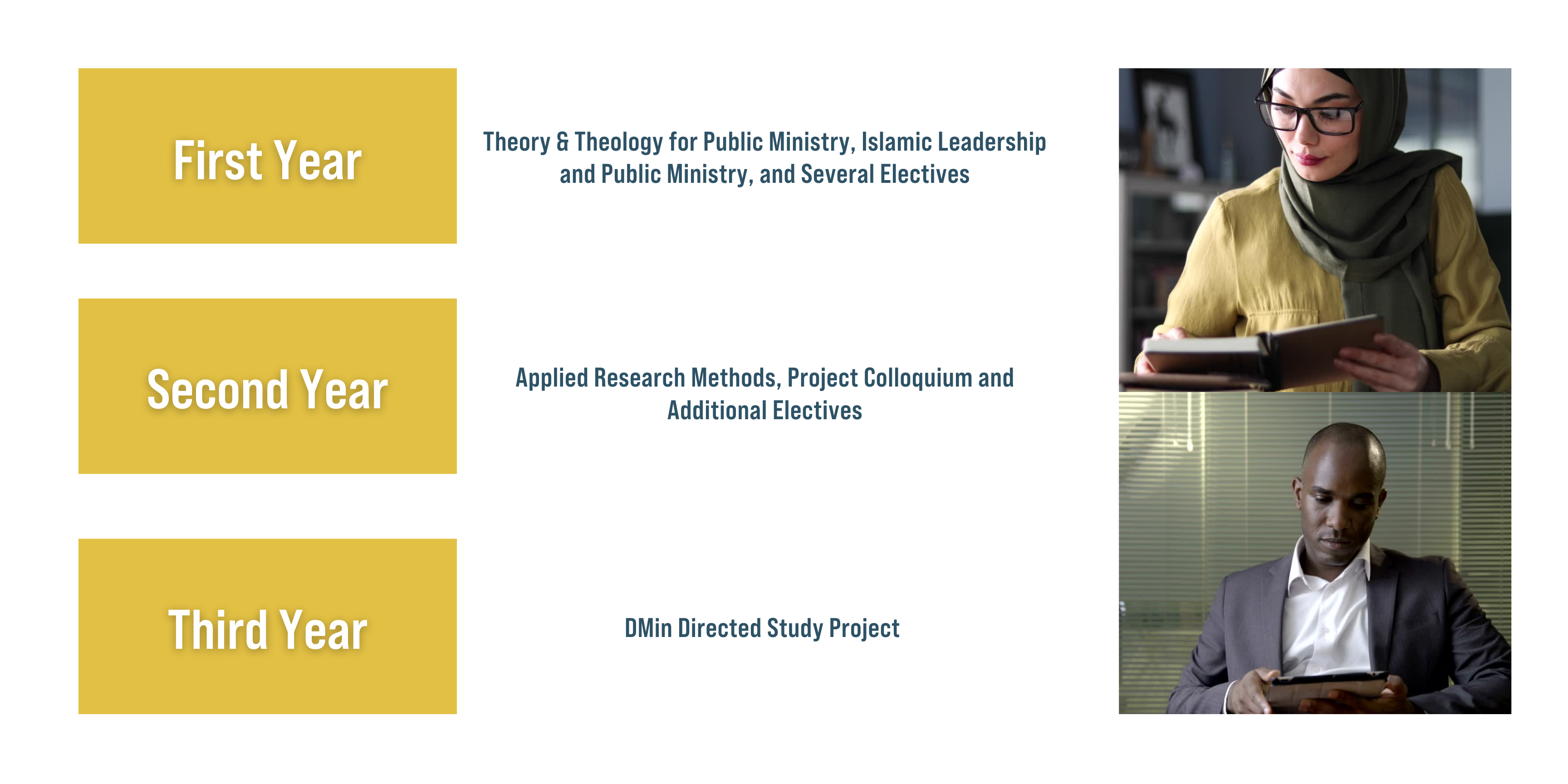 Frequently Asked Questions
What are the DMin program admissions requirements?

Master's degree from an accredited university or other accredited institution of higher education. Applicants with a Master of Divinity degree, or equivalent in theology or religious studies, from an accredited university, seminary or professional school are especially suited for the program, but individuals with a Master's in any field and significant community leadership experience are eligible as well. Superior academic record in previous undergraduate and graduate education is expected.

Official transcripts from all academic institutions attended.

Superior academic record in previous undergraduate and graduate education.

Current resume or curriculum vitae, including description of recent work experience, participation in volunteer and community service, involvement in Islamic or other religious organizations.

Applicants should ideally possess a minimum of three years of professional ministry or equivalent experience.

Written materials: Doctor of Ministry Essay (up to 6 pages) and Sample Ministry Paper (up to 15 pages).

Four letters of reference and recommendation from relevant referees, i.e, faculty, clinical supervisor, ministry professional, imam or religious leader. All references must be specific in recommending the applicant for the Doctor of Ministry degree program at Bayan. No general letters of reference will be accepted.




TOEFL (Test of English as a Foreign Language) scores are required of applicants for whom English is a not first language. The exam must be completed no more than two years prior to application. The TOEFL may only be waived if the applicant has completed another degree in English in the United States.




$ 50.00 application fee

When is the DMin application deadline?

The application deadline for admission to the Fall 2023 DMin program has now passed. We are now accepting applications for Fall 2024. The deadline to apply for Fall 2024 is February 1, 2024.

What should the DMin admissions essay consist of?

You should submit an essay of up to six pages in length addressing the following:

1. How do you understand public ministry or da'wah work and what has been your experience in such spaces?

2. Why are you applying to this DMin program in Islamic Leadership at Bayan Islamic Graduate School and Chicago Theological Seminary (CTS), and how will it assist you in your ministerial identity and vocation?

3. Your academic and/or professional objectives and what skills you hope to learn in this program.

4. A detailed description of your research interests, including previous work in this area and the directions you might pursue.

5. How Bayan/CTS commitments and areas of study appeal to your research and interests.

6. The particular resources, academic scholarship, and faculty at Bayan and CTS that you plan to use and that have led you to make this application for admission.

What should the DMin Ministry admissions paper consist of?

You should submit an appropriate sample ministry paper (series of sermons, khutbah, study guide, reflection, educational resources) less than 15 pages that is representative of your work and related to the area of interest.

Who are the faculty members in this program?

Bayan is recruiting a number of world-class faculty comprised of academics, religious scholars, and community leaders who have the requisite credentials and real-world experiences to engage the DMin participants at a high level of intellectual rigor and reflective of best practices in the relevant fields. CTS faculty will provide some coursework and address topics in public ministry, and support the research components of the program. The program will provide a theoretical foundation, but is ultimately focused on application of leadership principles and Islamic ethics in the American socio-cultural landscape, drawing from the insights and efforts of the faculty and the cohort members. Additional details will be forthcoming.

What is the cost of this program?

The current tuition rate for DMin coursework is $3,019 per course. Each course is 3 credits/units, and the program involves 10 courses, or 30 units. Thus, the total tuition for the accredited doctoral degree issued by CTS and Bayan is initially $30,190.

Participants can also expect to incur occasional nominal fees, such as the application fee, matriculation fee, and graduation fee. Courses may also have required books that may need to be purchased. Additionally, participants will need to plan on travel to Chicago for brief periods of time during most academic terms during the program, which may involve expenditures for transportation, lodging and meals. Additional details forthcoming.





Are scholarships available for the DMin program?

There are no full-tuition scholarships offered for this program. Modest tuition discounts may be provided to eligible students. We encourage applicants to seek financial support for tuition expenses through their mosques or other sponsoring organizations and employers. Students may also explore federal financial aid through CTS upon admission.